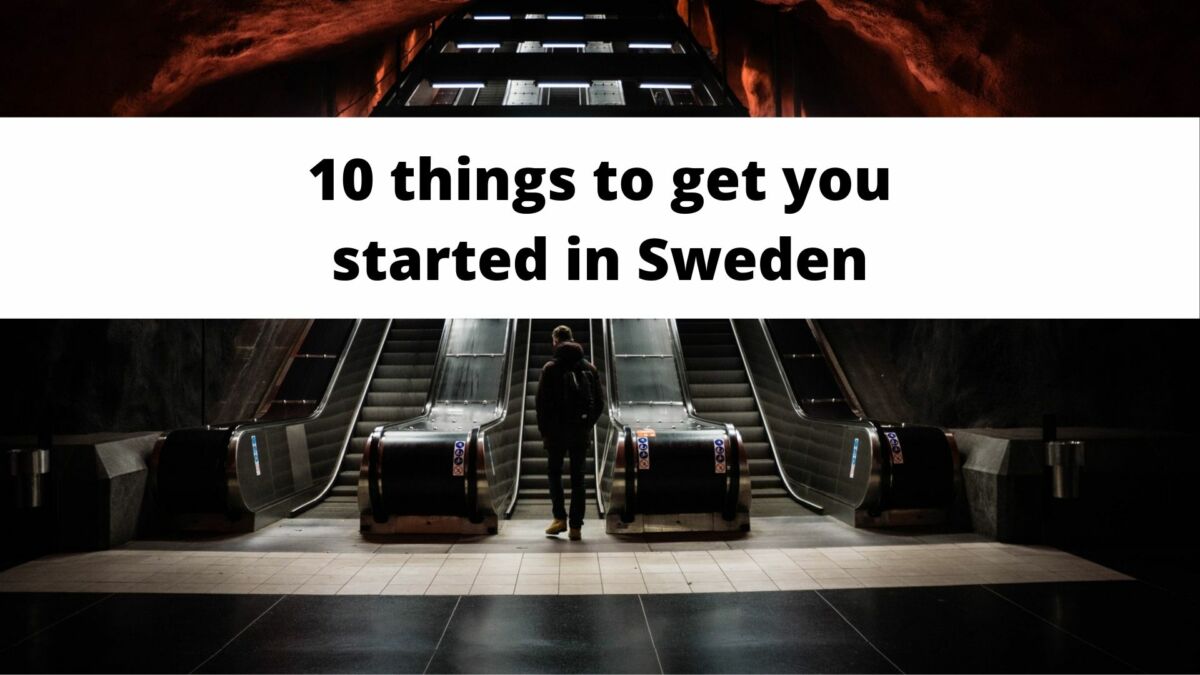 The Best in Sweden Team would like to welcome everyone and wish you all the best on your journey. Are you feeling confused about what to do and how to do it? Well then you have come to the right place. On this blog post we list all the things to get you started here in Sweden. Try to work your way through the list in the order we provide – each step on the list builds on the previous steps.
1. Get a visa or a residence permit
2. Get a personnummer by registering with the Tax Agency – Skatteverket
3. Sign up for benefits at the Social Insurance Agency -Försäkringskassan
4. Get a Swedish ID-card
5. Get a bank account
6. Get BankID
7. Find a home
8. Learn Swedish
9. Find a job
10. Make friends

Now we know that everyone is on their own journey and this list is just the basics. Let's dive in deeper on each topic.
1. Get a visa or a residence permit
The purpose and the duration of your visit is unique and depending on your situation you should either apply for a visiting visa, a residence permit or read up on rules for EU-citizens moving to Sweden.
Important!: This step should happen before coming to Sweden.
2. Get yourself a personnummer by registering with the Swedish Tax Agency – Skatteverket
As soon as you arrive you must register with the Swedish Tax Agency – Skatteverket. This step is very important and from now on you will be part of the Swedish Tax System. After registration you will be assigned with a unique personal identification number – a personnummer. This number – made up of your birth date + four numbers – is the most important number here and will be asked for constantly – from opening a bank account to visiting the doctor to getting a gym membership.
3. Sign up for welfare benefits at the Social Insurance Agency -Försäkringskassan
Next, you will want to register with the Swedish Social Insurance Agency – Försäkringskassan. It is highly recommended that you do this immediately after registering with Skatteverket. This service helps you with certain welfare benefits such as basic healthcare, parental benefits, child allowances, disability coverage, sick leave and other insurance payments.
4. Get a Swedish ID-card
A Swedish identification card is important to get as soon as you can. For example, you will need a Swedish ID-card to open a Swedish bank account. Having a Swedish bankcard is a necessity as nearly everything is paid for by credit/debit cards since Sweden is quickly moving towards a cashless society. The best common way to apply for an ID-card is at Skatteverket.
5. Get a bank account
You will need to open a bank account. In order to open a bank account in Sweden you will need your Swedish ID-card and personnummer (see step 2). Then you will be able to open an account at any bank.
6. Get BankID
BankID is used as digital verification of your identity and it will make life much easier in Sweden. To get your BankID, you must have a Swedish Personal Identity Number, personnummer, and be a customer of one of the banks that issue BankID. Find out more here
7. Find a home
The next step is to find a first hand contract for an apartment and this task can be challenging. There has been a housing shortage in Sweden, especially in the largest cities, which makes it hard for everyone, even native Swedes, to find a place to stay.
8. Learn Swedish
Learning Swedish will be one of the most important things you do here to improve your quality of life. There are many different teaching alternatives to choose from and its important that you choose a method that suits your needs and schedule. You could learn by yourself in the beginning but as soon as you can you should register with SFI or SAS, enroll in a Swedish course at the university or opt for a private lessons. I personally found it very helpful to listen to talk radio for hours everyday to train my ears. No matter what you choose, just remember to put yourself in situations where you can practice.
9. Find a job
Some people come to Sweden with a signed job contract others have to search when they get to Sweden. So do you need to do to find a job? One of the first places to look and register is the Swedish Public Employment Service, Arbetsförmedlingen. Sweden has large social security system so if you find yourself in a difficult financial situation, the National Board of Health and Welfare, socialstyrelsen, is a place to contact. It is best to call and make an appointment.
10. Make friends
Friends are an essential part of life and are an especially important part of experiencing a new country. But how togo about making these new friends? Go to bars, join fitness or book clubs, sign up for Swedish language school, join a sports team, join meet up groups, join a choir, go to a cooking class or volunteer. Many jobs are found through your friend network in Sweden so get out there. Make the effort to meet people and make it possible for others to meet you.