Linda Myrberg is a holistic health expert that has over 25 years of experience within the health spectrum. She's one of the leading spa consultants in Scandinavia.  She develops spa products for leading spa companies. Has a long education as an acupuncturist in Chinese medicine, ear acupuncture and nutrition. She lectures on the power of thought and the holistic health philosophy. She has also been a TV coach, health expert, health author and lectures on Nordic health trends. And as that wasn't enough, she also has a blog where she shares her health tips, spa- and workout experiences. I could list a lot more about what she's done, but I think you got the hang of who Linda is. So, with all this knowledge and experience, Linda thought it was time for the next step. In 2016, she launched her own brand – by Myrberg.
By Myrberg believes health should be natural, and I couldn't agree more. The plants and berries growing in our nearby nature provide the best impact on us. It's the nutrients that our bodies need and have been accustomed for generations. Therefore, they offer a range of berry and green powder blends, collagen and raw juice from the wild northern nature. The products are solely clean raw products, rich in antioxidants, vitamins, proteins and minerals.
Essential Oils
By Myrberg does a range of essential oils. There are 7 different oils, and each one of them has a unique purpose. Are you stressed and tired? The energy oil works uplifting and increased patience. Relieves headache and tense muscles. Do you worry too much? The grounding oil balances metabolism and digestion, provides "soil connection" and balance in mind. Find the oil for you here!
Nordic Superfood
Collagen Premium+
The main protein of the connective issues in the human body for tendons, ligament, bone, cartilage and skin, is collagen. It stimulates the production of human growth factor, which helps the body turn fat into energy and regenerate the cells. The Nordic Superfood Collagen Premium+ is made of the highest quality collagen from wild Norwegian fish.
There are several ways to use the Collagen Premium+. You can add it to water or any other drink, to your smoothie and protein drinks. Also sprinkle it on yogurt, porridge or similar. The normal daily dose is 1 tablespoon.

Wild Nordic Berry Powder – Lingonberry, redcurrant and cranberries
100% pure dried berry powder that will give you a hand full of berries in just one teaspoon. The blend can be used in yogurt, porridge, smoothies and baking. Or, add it to a cold or hot beverage! Take 1-2 tablespoon per day or as desired. Doing so will prevent bacteria growth, weight gain and help with urinary problems and fever states.
RAW juice – Blackcurrant super concentrate
A GMO-free biologically grown Finnish Blackcurrant Super Concentrate, with no added sugar. It contains vitamins A, B3, C, E, K, Omega-6 fatty acid GLA and potassium, calcium, phosphorus, magnesium, iron, selenium and abundant flavonoids. The concentrate will help to protect the brain, prevention of cardiovascular disease, works anti-inflammatory, and more. Add 0,5-1 tablespoon per cup of liquid. Mix it with water for a healthy lemonade, make ice popsicles or add it to your smoothie. The options are almost endless!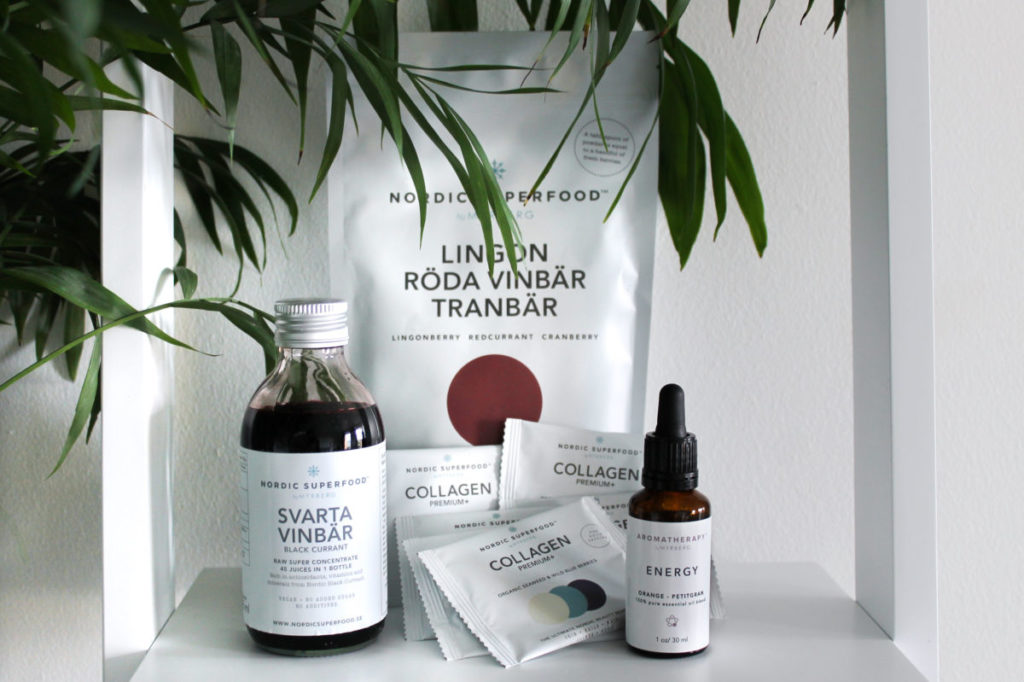 Review
I have used the Energy Essential oil a couple of times by now. It has a scent of citrus, smells lovely. It has made wish that I had a bathtub, so that could add the oil to it and bath in citrus heaven. However, I have mixed it with a body lotion and applied it to the parts of my body where I feel tense. This is mainly around the shoulder and neck. After applying it, the skin gets warm and I don't feel as tense. It feels great.
I have used the Nordic Superfood products for seven days now, have had two cups of tea each night before going to bed. I mix the Blackcurrant Super Concentrate and Wild Nordic Berry Powder with hot water. And also mixed the Blackcurrant Super Concentrate with the Collagen Premium +, and added hot water. Each of the products tastes amazing, and I love that you can use them on their own, but also mix and match. I have also made ice popsicles of the super concentrate. Bringing supplements can be a bit tricky sometimes. But the Collagen Premium + came in small bags. These are actually great for when you're going somewhere and want to take it with you.
I think it's too soon to say what what effect the products have had on me, but it's safe to say that they do make me feel better. Having these two cups of the in the evening have helped me relax and rewind. It also feels good to know that I'm providing my body with vitamins, proteins and minerals, that I might miss out on. I have run out of the Premium + bags, and I'm sitting here and considering to buy some more.. In the meantime, I will definitely continue to use the Super Concentrate and Berry Powder.
You can find By Myrbergs entire range here!