Make Up Store was founded in 1996 by Mika Liias. Back at that time Mika though that the range of makeup products was rare, so he decided to change it. He wanted to create quality makeup to a reasonable price, and "a world of colors". They offer high pigmented makeup with a spectrum of colors and classic colors. Make Up Store is a creative company that doesn't follow trends – they create them. Today they are not only established on the scandinavian market, but also all over the world.
I have the opportunity to try out some of their products! These are the products you'll need for a fresh glowing summer look!
Deluxe Wonder Powder Kalahari
A mineral powder with a velvety soft and lightweight formula. Provides a smooth and shimmering finish. Outstanding adherence and long-lasting result.
Bronzing Powder Turtle
Exclusively selected ingredients to provide a high-quality formula. To accent an ultra-natural looking tan or for enhancing a skin tone. A high pigmented, soft velvet formula with buildable coverage. Limited edition packaging and a uniquely shaped powder.
Face Mist
This ultra-fine mist is enriched with hazel extracts, aloe vera and algae extracts to moisturize and revitalize tired skin. Spray over cleansed skin or when needed throughout the day. Face Mist can be sprayed over your make up for fixation. Works like a drink of water for the thirsty skin.
Sensation Gloss Daylily
A luscious gloss with a delicate and lightweight texture. Enriched with active ingredients providing moisture and fullness. Applies effortlessly onto lips with a non-sticky finish. Wear alone, over lipstick or lip pencil.
Nail Polish Tove
An exclusive nail polish formula for a result that lasts. Comes with a uniquely designed brush for creating perfection. Applies evenly without streaking and dries fast.
Eyedust April
Pigment-rich loose powder for long-lasting result. Mesmerizing shimmer, enriched with Vitamin E. Exquisite texture for a smooth and even application. Use with Make Up Stores Mixing Liquid to enhance the pigment-rich formula for a water resistant intense color.
Microshadow Sweet Peach
Micro-fine, high-pigmented eyeshadow with a long-lasting result. Exquisite texture for a smooth and even application. Exquisite texture for a smooth and even application.
Moonshadow Peach
A high-pigmented shadow with a unique design. Provides a customized result with a soft metallic finish. Use with Make Up Store's Blend & Fix for a creamy result.
Highlighter North Star Duo
North Star Duo is a multifunctional highlight created in collaboration with Jimmie Star. It contains two shades that easily can mix and match in many different ways. Use in face as highlight, eyeshadow or on body for a soft shimmering glow.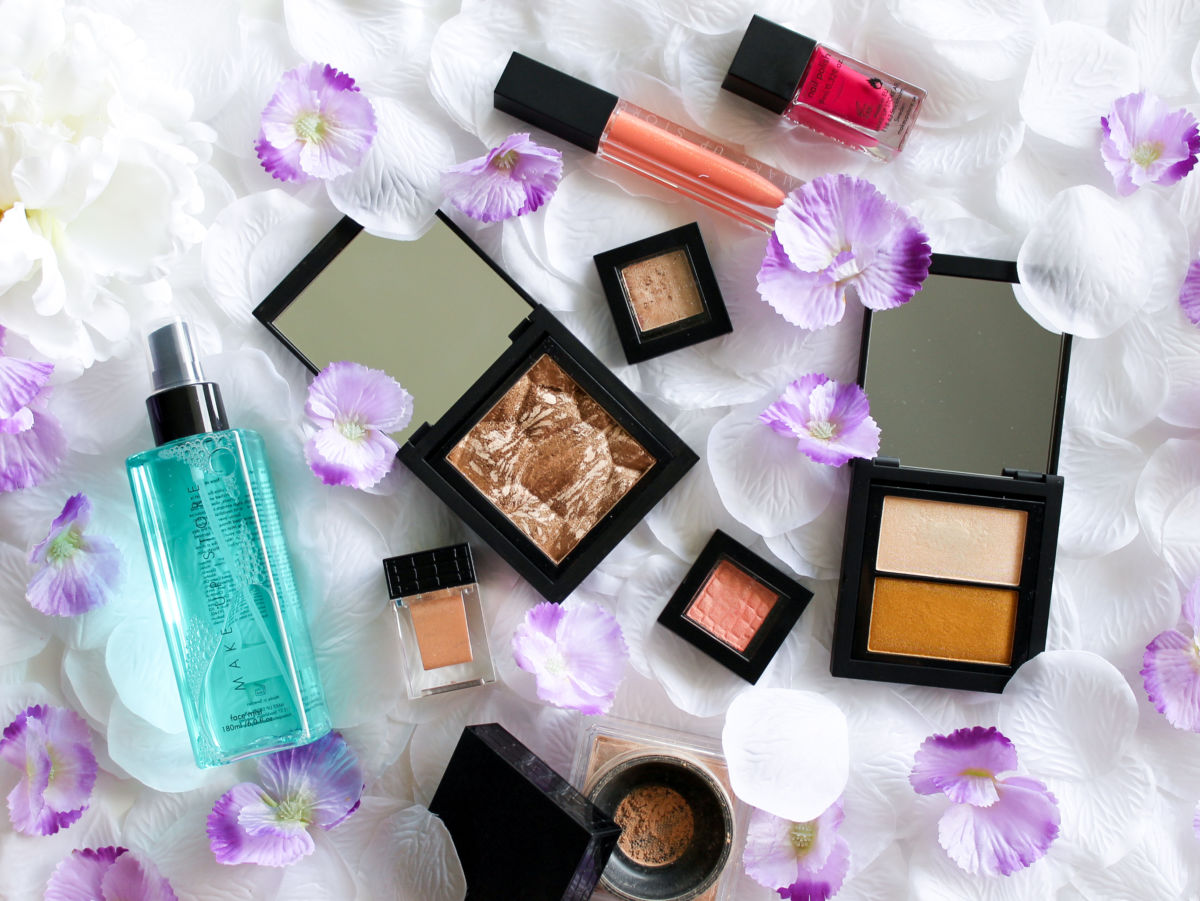 Review
My absolute favorites were the Bronzing Powder and Deluxe Wonder Powder. The bronzer is buildable. And for a casual glowing look I just apply a bit on my cheeks and forehead. I've gotten a lot of compliments for it! When I've had a more bold makeup look, I've applied a bit more on my cheeks. When applying more the glow gets more intense, and it's like a highlighter and bronzer at he same time.
The Deluxe Wonder Powder is something sent from above. It goes on super smooth, no matter what foundation I've been wearing. Now, this powder, it's not for the one who wants a matte result. This powder gives you an amazing glow. If you feel oily throughout the day, you can apply some more. Doing so doesn't give you a "cake face", it settles nicely and you get that natural healthy glow back.
The nail polish pigment and brush was really good. One layer was enough of the color Tove! It saves you not only time but also product. The brush was perfect for applying.
I have light skin, and the light color in the highlighter does really well on my cheekbones, The gold one, not for me. If you have olive and darker skin, the North Star Dou Highlighter will do a good job. It will blend in much nicer!
I have used Make Up Store's eyeshadows before and I love them, they never let you down. The Microshadow and Moonshadow are a bit creamy, metallic and gives a cool effect on your eyelid. The colors April and Peach goes really well together.
The eyedust is a fun product, you can use it in more than one way. You a glitter effect on your eyelid or cheekbones, you can apply with a brush or fingers. For a more intense effect, use with the Face Mist. Spray some on a brush, pick up some eyedust and then apply. The powder gets more compact and the color shows much more!
The Face Mist smells like fresh watermelon. It's perfect for the summer when your skin needs that extra hydration during the day. I have mostly been using it while in front of the computer. My skin gets quite dry while staring at the screen all day, so the Face Mist does a wonderful job.
My favorite thing about the Sensation Lip Gloss is that it's not sticky! I can talk without the lips gluing on to each other and making my teeth look like they're in jail. It doesn't give much color, but a beautiful golden shimmer. I reckon it would look stunning over a nude colored lipstick.
You find their entire range here!