Skogen Cosmetics is a Swedish-American brand that offers luxurious and environmentally friendly skincare. Their products can be found at different places, all over the world. But who are they? And what makes their products unique?
The founders of Skogen Cosmetics are David Johansson and Yamin Cheng. A power couple that is based in America, with roots from Sweden. Yamin has a PhD in Biomedical & Analytical Chemistry and over 25 years of experience in the skincare industry. She has worked at the big pharmaceutical companies such as Sandoz, Johnson & Johnson. David has Master's degree in Civil Engineering, and has a long experience with managing business & product development.
At some point, they asked themselves. "with all knowledge we have, why don't we create our own skincare brand?" And so they did. Yamin had the perfect background to develop new high-quality performing products and manufacture these while David's business background would become useful to launch the new brand and get the sales going.
After some brainstorming, they figured the brand should be inspired by David's roots, Sweden! Next step was to figure out a name related to something typical Swedish. Nature, rivers, trees, forest and there it was "Skogen" which means forest in Swedish. Not only does the name reflect David's background, but it also reflects the couple's common interest, i.e. they spend a lot of time together in the nature.
After first product samples were made, they attended some important beauty trade shows to introduce the brand to the world. The IBS Show in New York, the largest International B2B Beauty Trade Show, Cosmoprof in Las Vegas and Kistamässan in Stockholm just to name a few. After some initial marketing events they started to sell their first range, the Jasmine Collection in October 2018.
The Jasmine Collection consist of 7 different products. Face Serum, Day Moisturizer, Night Cream, Eye Serum, Eye Cream, Facial Peeling Gel and Non Surgical Face Mask. The range is for every skin type and for anyone who really cares about its skin. In addition to that, people who not only wants something luxurious but also care about the environment at the same time.
What makes Skogen Cosmetics unique is that the ingredients are inspired by the Swedish nature and are chosen carefully. The range is made of as many natural ingredients as possible. They also contain high performance ingredients for the skin such as vitamins (A, B, C, E), natural oils (avocado, jojoba, jasmine, apricot etc), aloe vera, hyaluronic acid, hydrolyzed collagen, peptides, retinol, and are paraben-free. The products are well market proven since they are also inspired by products Yamin have developed in the past, but she has added some special ingredients to make these products even better.
The brand wants to make as little impact on the environment as possible. The bottles and jars are made of recycled acrylic and the packaging is FSC certified. Just because something is sustainable, it doesn't mean it has to be just ordinary. Skogen's packaging is pure luxe. The bottles and jars are designed to decorate your bathroom shelf while using the products, and to make you feel luxurious. The colors are based on the Swedish colors, blue and yellow. The "three crowns" part of the logo is inspired from one of the Swedish national symbols.
In the long run, they want to expand their skincare range. Toners, cleansers, body lotions, body scrubs, handcare, footcare, color cosmetics and make up. They also want to make Skogen Cosmetics a lifestyle brand. Yamin and David have an interest in fitness, and in the long run they want to expand Skogen to become a wellness brand that will include sportswear and running shoes. However their main focus will always be on their skincare ranges.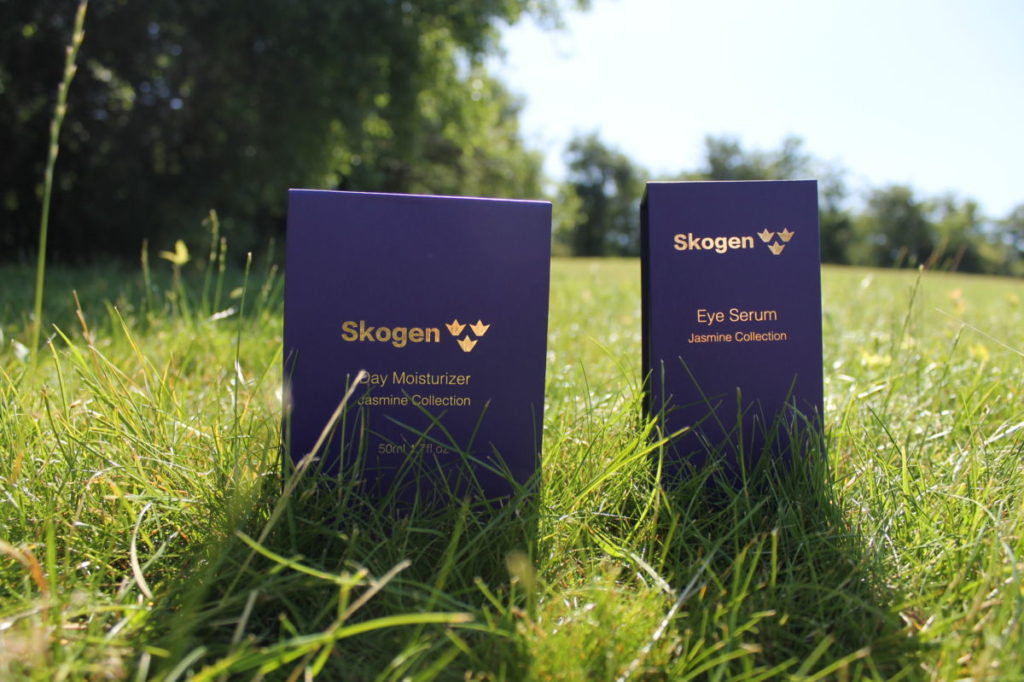 Review
I have been using the Day Moisturizer and Eye Serum for about a month now. The packaging is so pretty that I didn't want to open it at first. I will definitely keep the boxes for storing accessories. The jar and bottle feels so luxurious.
I'm a big fan of good eye products, and this one didn't let me down. The Eye Serum is a gel that is fast absorbing and cools the area where applied, which my puffy eyes really need in the morning. I actually keep the Eye Serum in my fridge, to get an even more cool effect. It also does a really good job with dark circles. Mine hasn't been back since I changed to this.
The Day Moisturizer is heaven in a jar. My skin has improved significantly since I started using it! I have sensitive skin, and it can get irritated when change skin care. It didn't happen with these Skogen Cosmetic products! I'm so glad that I didn't have to deal with weeks of breakouts. Now, I don't have a simple pimple and my skin is less oily. The scent is lovely, it's fast absorbing and you don't get the "layer on your skin" feeling. I couldn't possibly be any happier with a day cream.