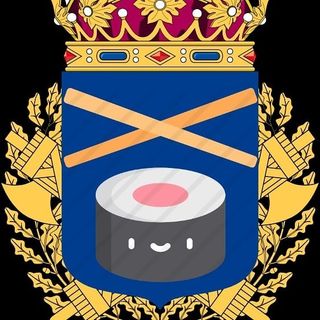 We are two friends from Japan who live in Malmö and love sushi. We were surprised when we found out that Malmö has over 30 sushi restaurants and we got the idea that we should try them all! That is how our instagram account @Sushipolisen was born.
Despite the name of our account, our objective is not to dictate what is or is not authentic sushi. We are totally okay if there is chili mayonnaise or fried onion on top of an avocado roll. As long as there is harmony between the rice and the other toppings and it's made with love and care, you'll be in our good books.
In our effort to protect and serve we decided to create a top 10 list of Malmö's best take away sushi – according to us. Because we're only reviewing take away, restaurant atmosphere and service at the restaurant is not taken into consideration. Here are our top 10 sushi restaurants in Malmo – itadakimasu!
6/10 Points
Vastra Hamnen has several sushi restaurants. This one is in front of Kockums Fritids. Surprisingly, their egg roll sushi was quite good. Eggroll sushi often goes wrong,, some making it super sweet or adding chilli which overpowers everything. It's not fancy but we can recommend it for an everyday sushi.
6.3/10 Points
Sakanaya changed owners last year but they still seem to have some experienced sushi chefs. They have definitely fallen from their previous level and they struggle to be consistent.


6.5/10
Points It's a relatively new restaurant on Gustav Adolfs Torg. It's casual and the right amount of lunch sushi is there.
6.6/10 Points
For the times when we would like to eat more than 1 or 2 kinds of fish sushi.
6.9/10 Points
This is the highest sushi restaurant in Malmo (we mean altitude!) They are more of an Izakaya style, so they do not focus on sushi. We liked their Nigiri over their Maki rolls.
7/10 Points
The freshness and quality of the fish really shines through at Sushibaren!
7/10 Points
The sushi rice, rice vinegar, and fish are all well balanced. A solid choice!
7.8/10 Points
Sushi rebellion is a neo fusion sushi restaurant in Malmo. The sushi is very consistent and well balanced. They also serve many great sides, which makes us super happy.
8/10 Points
This restaurant is now run by the ex-sakanaya sushi chef. The softness of the Sushi rice (the moisture content of the rice) is perfect and the fish cutting skills are excellent.
9/10 Points
If you are looking for a sophisticated fusion sushi experience, Saiko is our top pick. The freshness of the fish, the cutting skill, the presentation – everything was top notch. Also Saiko is the only place in Malmö where they serve freshly grated real wasabi with your sushi.